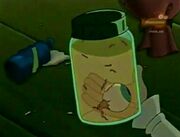 The Petrified Eyeball is Carl's most prized possession. In Ginger the Juvey, Blake steals the eyeball from Carl while he and Hoodsey were gone. He ended up getting caught in a net trap. In Blizzard Conditions, Blake ceased the opportunity to snatch the eyeball. He was ultimately caught by Carl and Hoodsey. In Butterflies Are Free, Blake gives Carl his eyeball after Carl agreed to give him his tonsils back.
Later in the episode, Carl is conflicted about putting his eyeball in the time capsule. Polly Shuster persuades Carl to give it up and senses that he has a fear of letting go. After talking to Hoodsey in the doghouse, Carl decides to give it up. However, Polly only wanted Carl to give up the eyeball so she could dig it up at night and take it. As they rode their bikes in the night, Carl and Hoodsey catch her red handed and stopped her from stealing the eyeball. 
The eyeball makes frequent appearances throughout the show, until it was eaten by a turkey in "Ten Chairs".