Jurassic World: Dominion Dominates Fandom Wikis - The Loop
Play Sound
Robert Joseph "Hoodsey" Bishop is Dodie Bishop's younger brother and Carl Foutley's best friend and sidekick.
History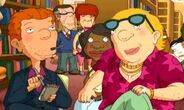 In the series finale, Hoodsey is shown, along with Carl, as a popular TV reporter, and they are both seen amongst the group at a reading of Ginger Foutley's latest book.
Throughout the series, Hoodsey teams up with his best friend Carl as they get involved in many different hijinks. Hoodsey is usually the voice of reason for Carl. He and Carl are inseparable and they get along very well. However, from time to time, they occasionally have a few disagreements. Most of the time, he and Carl deal with their wealthy rival, Blake Gripling. Blake is always trying to find ways to ruin their plans. Blake usually ends up failing in the end mainly because Hoodsey and Carl were able to figure out what he was up to. 
Hoodsey and Carl's friendship hit a snag in Far From Home when Noelle Sussman kissed Hoodsey on the lips. Carl kept feeling left out as Hoodsey and Noelle started to bond. The three of them eventually made up and forgave each other. Hoodsey is Carl's right hand man and he will be there for Carl through thick and thin.
Personality
He is extremely gullible and believes anything someone tells him. He usually never has supplementary ideas for Carl's plots, but is typically more than happy to help.
Hoodsey is a complete mama's boy, and is always repeating things his mother tells him. He usually uses his mother's advice to attempt to make Carl stop his scheming, typically to no avail.
He has a bedwetting problem which was revealed in Sleep On It and he saved Ginger from Miranda and Mipsy's trick of making her wet her sleeping bag by drinking the entire glass of water and accidentally peeing on Courtney's white carpet.
Appearance
He is called "Hoodsey" due to the fact that he never wears anything but a purple hooded sweatshirt, and his closet is full of them.
Relationships
Family
Joann Bishop: He has a good relationship with her. Joann would rather see him hang out with someone other than Carl. She thinks Carl is a bad influence on Hoodsey. He would talk to her whenever he and Carl didn't agree on something. 
David Charles Bishop: He is more like his dad. Hoodsey would often go to him for a question or advice. He talked to his dad about his mother's persona in jr. high in About Face.
Dodie Bishop: He has a good relationship with his sister. They care about each other very much but they do have their fair share of sibling squabbles. The two of them aren't seen together a lot because they hang out with their friends. 
Nana Bishop: He didn't feel a lot of emotions when she died. He's younger and wasn't as close to her as Dodie was. He gave a nice eulogy about her at her funeral.
Friends
Carl Foutley: The two of them are best friends. They both go through numerous adventures and find ways to resolve different things. They get along well and enjoy each others company. They do have a few disagreements on a few occasions but eventually they get past them. ​​​​
Ginger Foutley: Being Carl's older sister, he looks out for her whenever possible. In Sleep On It, he saved Ginger from wetting her sleeping bag by taking her hand out of a glass of water. It was set up by Miranda and Mipsy. When Hoodsey accidentally wetted himself the next morning, Ginger stood up for him and they left Courtney's house with their heads held high. In A Lesson in Tightropes, he read a book to Ginger after her appendix surgery while she recovered. 
Teachers
Mrs. Gordon: She doesn't get on him as much as Carl. She mainly sees him as Carl's sidekick which is said in Sibling Revile-ry. When the news of her death was announced, he was very upset. 
Mr. Hepper: He was in his music class. He was a good student in the class. He became their new homeroom teacher after Mrs. Gordon's passing.
Romance
Macie Lightfoot: He had a crush on her as seen in Piece of My Heart. He sent her a secret admirer letter inviting her to the dance and pretended to be a transfer student. They both shared a few dances while Hoodsey went back and forth to help Carl and Blake. In the epilogue of The Wedding Frame, he is seen sitting next to her which means that they're married. 
Others
Blake Gripling: He's the main rival of him and Carl. Blake would sometimes call him Woodsey. Hoodsey would often help Carl ruin his plans to get back at them. 
Brandon Higsby: He's seen as a nuisance by Hoodsey. He doesn't think much of Brandon and would rather not hang out with him. In Deja Who?, he lost his memory and became friends with Brandon. At the end of the episode, he came back to Carl and wanted to be friends with him again.  
Dwayne Cochran: When he and Carl went to get Blake's tonsils from the dump, Dwayne gave them directions to tell them where to go. In Kiss and Make-up, he and Carl drove with Dwayne to Protected Pines.
Trivia
Gallery